Back
Back
26 / 10 / 23
September Craft Club: Nature Lanterns
Going forward with theming each session around something that could increase attendants knowledge on the Palm House- September's session was made up of making Nature lanterns with real flowers and leaves, as well as crepe paper. I focused in on some of the Ferns and Palms within the collection, providing labelled images, as well as having dried and pressed leaves amongst the materials used to create the lanterns.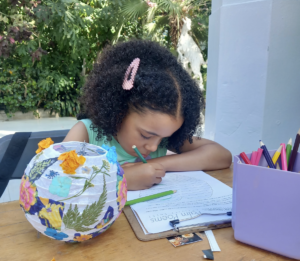 Each participant was given a paper lantern along with pressed flowers, leaves and crepe paper. Once the lantern is decorated, an electric tea light can be inserted.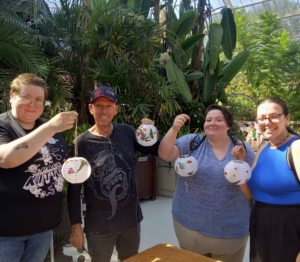 As always, we had a busy start to the session, with all seats and tables soon bustling with activity. A family had come along to celebrate the mother's birthday- aiming to do something 'different' and both parents, as well as their two grown up children created their own lantern.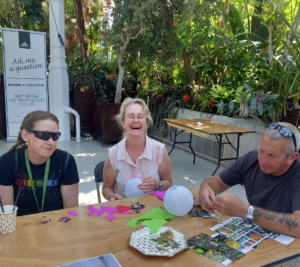 We had returning attendees also- again, multi generational groups. It felt good to be using natural materials, and taking inspiration from the immediate surroundings. I suggested some of the children could do a circuit of the Palm House before starting, a sort of botanical treasure hunt for any leaves or petals that had fallen.
We used PVA glue to attach the flowers and leaves, and finished by adding another layer of glue to create a smooth surface, adding an added bit of security for any rogue petals also.
As always, it is so lovely to see the different interpretations and variety in what people take away with them. From their creations themselves, to the more internal time they have spent, under the Palms, and the personal effect that can have.
For more information about the Palm House and the events we have coming up, please visit our Whats On Page