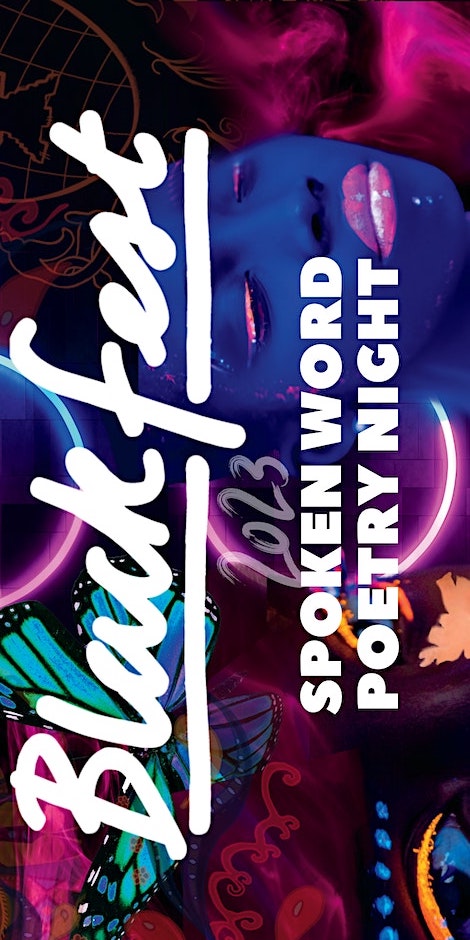 19:00
BlackFest 2023 presents Spoken Word Poetry Night
The night will feature an exceptional line up of Liverpool's emerging and established poets touching on unseen narratives and shining a spotlight on Liverpool's black poets and nationally. Join BlackFest for a night of collective conscious, wonderful woke wordsmiths that you definitely won't forget and will learn from.
Meet the line up:
Alexis Chioma Maxwell
Theatre and Performance graduate (from the cursed 2020) and multi-disciplinary storyteller who explores my lived experience of sexuality, mental health, and racial injustice. Self-taught animator and long-time fan of all things spoken word, I work across disciplines, with a keen interest in animation, projection, and its relationship to poetry.
Naami Soya
I began writing poetry and short stories at the age of 15. Some of these poems I wrote over the years became part of a published work titled ''Dear Nay: a book of poems and excerpts of life'' that I created and shared with the world through Amazon publishing in 2019. My early years of poetry revolved entirely around heartbreak, love, and the darkness we can sometimes incur from life experience. As my poetry and I matured, I have begun sharing more uplifting and even spiritually inclined poetry I began studying psychology in 2020 and would love someday to combine my two passions of poetry and psychology to serve those in need from a more holistic perspective.
Sian the Visionary
Sianthevisionary is part of the spark for a new generation of female artists. She is young, talented and unapologetically her. In her artistry, this 21 year old artist combines timeless neo soul/ alternative RnB with traditional poetic rhythms to create something authentically different.
Sianthevisionary grew up under the influences of Michael Jackson, Frank Sinatra, Lauryn Hill, The Beatles and many more. These influences helped contribute to the shaping of her artistic mind. She's aware of her art sending out a conscious and fruitful message.
Visionaries songs are about real life: love , heart ache, struggles, growth, tenacity and everything in between. This pocket rocket from Manchester is in full creative control and her vibe is something to hold on to.
Sydney Conteh
Sydney Conteh is a Sierra-Leonean-born writer who moved to the United Kingdom at the age of five.
Sydney Conteh graduated from Anglia Ruskin University, Cambridge Campus with a bachelor degree in psychology.