Back
Back
21 / 09 / 22
William Roscoe : Liverpool's Renaissance Man
William Roscoe:
 Liverpool's Renaissance Man
Using funds from the National Lottery Heritage grant, an exciting exhibition was launched on Sunday, 21 August at the Palm House.
Preparation for this exhibition had begun some months prior to this when John Maguire from ArtsGroupie, a local theatre group, met some Palm House Volunteers and took them on a guided walk around Liverpool's City Centre, showing them the places where William Roscoe had lived, worked and prayed, bringing him to life almost with his enthusiasm and knowledge of this eighteenth century 'Renaissance Man'.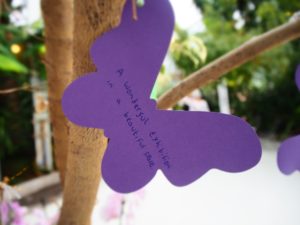 Roscoe was born in 1753 in Mount Pleasant, which at this time was open countryside.
His father owned a public house and a market garden in the area where The Everyman Theatre now stands.
Although his formal education ended in his early youth, he continued with his studies whilst working, learning Latin and Italian. In essence he was 'a self-made man'.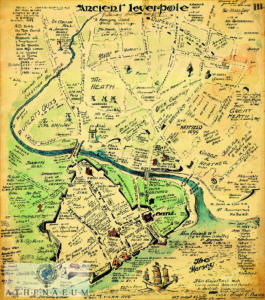 In 1769 he was articled as a Solicitor in offices in Church Street, becoming a lawyer in his own right in 1774. He later became a Banker but by 1820 the banking house with which he was connected was brought into difficulties and the action of some creditors forced the business into bankruptcy.
Many of his friends rallied to his assistance and bought many of his books and art, the books placed in Liverpool Athenaeum and the paintings acquired for the city.
His interest in the Italian Renaissance culminated in a biography of Lorenzo de Medici.
This acclaimed biography was written without ever visiting Italy!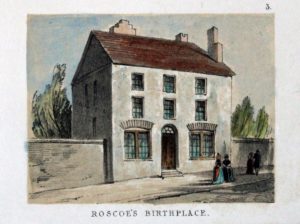 The most important link Roscoe has with the Palm House is that in 1802/3 he led a group of botanists and naturalists who founded the first Botanical Garden in Liverpool. One of England's earliest public gardens, these were originally sited on a hill above the city, in the area of Liverpool 8 that encompasses Myrtle Street, Grove Street and Vine Street (hence their botanical names).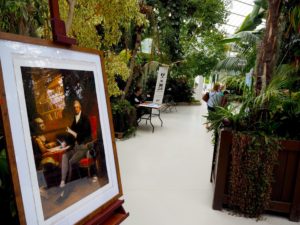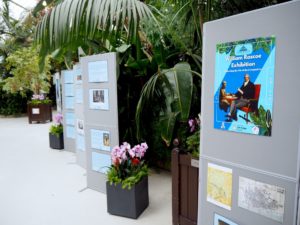 Roscoe was a botanist at a time when botany was extremely popular, especially as new plants were being discovered by explorers and botanists. Carolus Linnaeus (whose statue is, of course on the periphery of the Palm House) had devised a system where all flowering plants could be classified according to the number of stamens and styles the flower possessed, and Roscoe would have been well acquainted with his research and writings.
As the area became more built-up and the original site became unsuitable, the garden was re-established in Wavertree, which at the time was open countryside. These gardens were later acquired by Liverpool Corporation in 1846. Unfortunately, the grand glass house was hit and destroyed by bombing in WW2 in 1941 and the gardens fell into disrepair. Many of its plants were transferred to Calderstones Park and the vast Harthill greenhouses were opened in 1964 to house the plants, many of which were extremely rare orchids. Unfortunately, during the 1980's the greenhouses were closed and although many of the plants were re-sited at Croxteth Park, most were lost.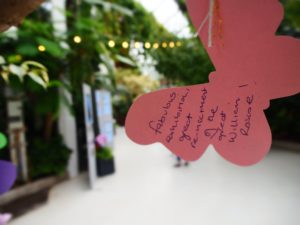 William Roscoe is perhaps best known as being one of England's first abolitionists. He was a prominent Unitarian and was elected as an M.P. for Liverpool in 1806. The following year he stood down. However, before leaving Parliament he was instrumental in beginning the long battle against slavery by casting his vote in favour of the successful abolition of the slave trade.
Washington Irvine wrote:
'No native resident of Liverpool has done more to elevate the character of the community by uniting the successful pursuits of literature and art with the ordinary duties of the citizen and man of business.'
Very special thanks should be made to John Maguire from ArtsGroupie for putting this exhibition together and inspiring the Palm House volunteers, who passed on his extensive knowledge so that we could tell our visitors the story of Liverpool's Renaissance Man.
Written By:
Margaret, Volunteer
This Exhibition was made possible with the support of the National Lottery Heritage Fund