Back
Back
23 / 03 / 22
Palm House Activity Table – A Welcome Host's view
My name is Jackie and I have been at the Palm House doing workshops and volunteering since 2006 and officially became a Welcome Host 2020.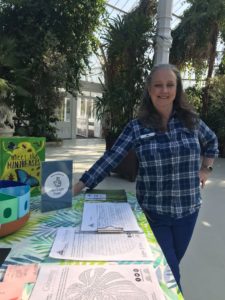 In my role I would say that theActivity Table, since its introduction in January 2022, has been very well received. Positively interacted with and thoroughly enjoyed by all members of our visiting public.
I have observed its creative resources and the activities that are available to the public being appreciated and utilised by all age groups, young and old, from individuals, to family groups to student groups, and by people who are from differing social, economic and cultural backgrounds, regardless of whether they do or do not have artistic experience or tendencies. In my opinion it certainly provides everyone who visits the Sefton Park Palm House with a choice and an equal opportunity to express themselves with joy and without judgement in such an amazing and enriching environment.
Visitors are initially interested in the fact that we have this Activity Table, are then intrigued by it, then they are delighted to know it is available for them to use, explore and experience free of charge and they then generally mention that they 'are happy to support it' and 'will let friends and family know about it'. Other comments include the fact that they 'feel grateful' for it and are 'encouraged' by the fact that it has been provided by The Heritage Fund for the community and all our visiting public.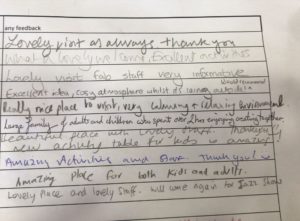 A visitor's experience of the Activity Table varies in terms of time spent enjoying the creative possibilities from fleeting moments to hours. For example I observed one particular group of three adults and five children, who were all new visitors to The Palm House, spending around 1 hour 40 minutes creating all sorts of interesting artwork. The adults were just as content and engaged in their creative endeavours as the children were, who ranged in age from 5 to 12 years old.
Another example of positive time spent was when a mother and toddler initially explored the Activity Table for a brief 10 minutes in the morning and then returned in the afternoon with two other mothers and toddlers. Their communal group then happily stayed and enjoyed the creative possibilities for over an hour and mentioned that they should make the Palm House a regular destination now because of it and that they 'would spread the word'.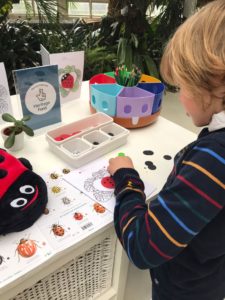 During my conversations and interactions with our visiting public, who directly use our Activity Table, I have found that their reactions to it and comments on it are overwhelmingly positive and supportive therefore I do encourage them to support it further by writing down their thoughts on it.
I would encourage all our visitors to come down and have a go. It is not about your skill it is about enjoying being peaceful and creative in the wonderful environment of the Palm House and I believe this is for all ages.
The Activity Table is part of a wider programme funded by The National Lottery Heritage Fund. We will update you as we reveal new interpretation plans, develop family trails, record oral history projects, develop school engagement and all sorts of new exciting interpretation projects as they happen.