Back
Back
27 / 07 / 22
Banner Making Craft Session
Using a variety of artists (including Bob and Roberta Smith, Grayson Perry and Peter Blake) as inspiration, the plan for the session is to make simple, text based banners or wall hangings from felt and craft foam, in which the participant can then take home. As always, the activity is created with the hope that it can inspire visitors of all ages and abilities, with pre cut letters and numbers for younger artists.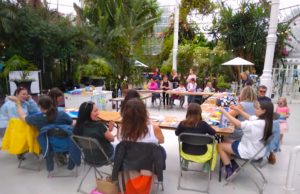 The session was very lively, with about 30 participants as well as family members getting stuck in. Ages ranged from 3 to 83, the latter being a couple, who joined us at the start of the afternoon and stayed for the majority of the session, they encouraged other older people to join the group, and did not leave with making a speech to the rest of the group.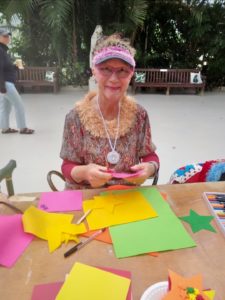 We had mothers making alongside their children, stating "I'm not really creative, well I did Art at A level, but I've forgot how relaxing it is to just sit and make something." Children made banners for end of term presents for teachers, and older people made wall hangings, siting inspiration from their own gardens as well as the Palm House surroundings. We had at least two families that were not from Liverpool, a multi-generational group from London that were visiting relatives, that left with the Event Guide, claiming they were going to make a regular trip as they enjoyed the afternoon so much. There was also a group of families from Spain, who's older teenage daughters sat for over an hour, making text-based banners. People were encouraged to take photographs of themselves with their finished pieces by their favourite plants, and to 'tag' the Palm House in any online posts.
🎉Come and speak to our volunteers who will tell you more about the events, activities and projects that have been made possible by National Lottery Players.
The Palm House is supported by @heritagefunduk 💚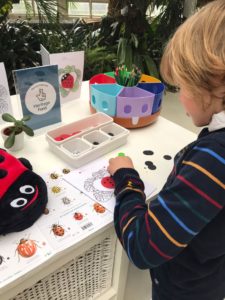 Written By: Rachel Salmon Anderson
3rd July 2022