Back
Back
09 / 01 / 23
On the Hunt for New Volunteers to Work at Iconic Venue
Sefton Park Palm House is on the lookout for new volunteers to join its successful volunteers programme, as the Grade II* listed building gets underway with their exciting National Lottery Heritage Fund project.  If anyone is looking for a new interest for the New Year, the Palm House would love to hear from you.
With 53 people already volunteering at the Palm House, new volunteers will have the opportunity to take part in a number of roles; including leading guided tours and introductory talks, and benefit from training from Blue Badge Trainer Peter Colyer, at this very exciting time in the Palm House history as the National Lottery Signage and Interpretation project begins to take shape.
Looking to attract friendly, energetic and enthusiastic individuals, the Palm House has welcomed a diverse range of volunteers over the years, from students looking to enhance their CVs, to professionals in need of time banking opportunities, and the retired with life experiences to share.
Playing a valuable role in enhancing visitors time spent at the Palm House, volunteers will also have the chance to become part of a dedicated team, meet new friends, as well as enjoying new experiences, in the process learning new skills.  If you want to support your community and meet new people, come along to find out more about volunteering at the Palm House on Monday 9th January at 11am at the Palm House.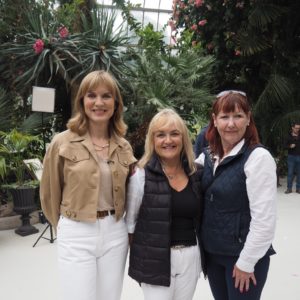 Kate Martinez, head of external relations of Sefton Park Palm House, said:
"We pride ourselves on the famous welcome that we give to our visitors at Sefton Park Palm House, and our volunteers play a huge role in that, as they are the first faces that people meet when they walk through our doors. With thanks to National Lottery Players we are now able to welcome new members to our happy team.
"Palm House Guides have an important part to play in ensuring that our visitor experience continues to stay exemplary. Our Guides will have the opportunity to learn new skills as well as making new friends and gaining experiences that will stay with them for a very long time."
With volunteers required from 10am-1pm and 1pm-4pm seven days a week, Palm House Guides will also receive an induction before their role begins, as well as suitable in-house training from Kate and the Palm House team.
For more information about Sefton Park Palm House's Volunteers Programme email naomi.mcallister@palmhouse.org.uk or visit https://palmhouse.org.uk/
Editors Notes
Sefton Park Palm House is about as iconic a landmark in Liverpool as any of the Three Graces. Nestled within the grounds of the park, this Grade II* listed, three-tier-domed glass conservatory palm house, was designed and built by MacKenzie and Moncur of Edinburgh. Opening to the public in 1896 by the generosity of Liverpool millionaire-philanthropist, Henry Yates Thompson, who gifted the handsome sum of £10,000 to fund its construction.
In June 1992, a public meeting saw a campaign begin to 'Save the Palm House'. Fundraising began and each pane of glass was sponsored, generating an incredible £35,000. This led to the creation of a charity; Friends of The Palm House, resulting in a partially restored and reopened space in 1993.
A full restoration, with the support of a £3.5m Heritage Lottery grant, saw The Palm House that you see today, reopen in 2001.
The Palm House's historic botanical collection is open to the public view daily from 10am to 4pm and the exclusive hire venue has a capacity of 220 seated or 400 standing for community or corporate events and weddings.
The Palm House was saved by the community, and the community is at the heart of everything it delivers. While commercial events hire the space, which generates income, it does mean that on occasions the public cannot access the collections.
This income enables The Sefton Park Palm House Preservation Trust to open to the public and fund community programmes throughout the year for everyone.
The Sefton Park Palm House preservation Trust is currently collaborating with Liverpool City Council on a National Lotter Heritage Fund Signage and Interpretation Project.  This will see new signage in Sefton Park and includes new activity table, digital interpretation, souvenir leaflet and plant labels in the Palm House.